No Bake Nanaimo Bars
I believe all  home bakers  should have a good 'no bake' recipe up their sleeve. They are quick, easy and for the most part are huge crowd pleasers. They serve up and adapt to all functions from tea parties to bake sales and are just down right, no fuss, tasty. These traditional no bake Nanaimo bars absolutely tick that box.
Nanaimo bars are a no bake, layered dessert with a chocolate, coconut and biscuit crumb base, sandwiched with a creamy custard filling and topped with a layer of chocolate ganache. Modern interpretations see the addition of mint, coffee or orange to the chocolate and an assortment of nuts in the base but at its heart, the Nanaimo bar is a delicious trifecta of chocolate, custard filling and biscuit.
HISTORY OF THE NANAIMO BAR
No bake desserts have a long and rich tradition from jellies to trifles and everything in between dating back centuries. The advent of modern refrigeration post war saw an explosion of no bake recipes, helped by the availability of butter and sugar post rationing. Ingredients that had a long shelf life and stored easily such as Graham Crackers and Bird's custard powder are typical ingredients for baking during that era.  No bake desserts such as Nanaimo bars grew in prominence in post war America and Canada where they were also popular and easy desserts to turn out for community events. 
EDITH ADAMS
While no one has been able to determine the authentic creator of Nanaimo Bars, the very first recipe (actually three recipes) for Nanaimo Bars was published in the 1952 Women's Auxiliary to the Nanaimo Hospital Cookbook, but labelled as a chocolate square or slice. In 1953, a similar recipe was published in the Edith Adams' Cookbook, (she was the Canadian equivalent of Betty Crocker) and this is the first recording of the recipe labelled as a Nanaimo bar. Whilst this sweet little bar has also been known as the " London Fog bar', Prayer Bars and Chocolate Squares it is the town of Nanaimo in British Columbia, Canada that lays claim to this desert.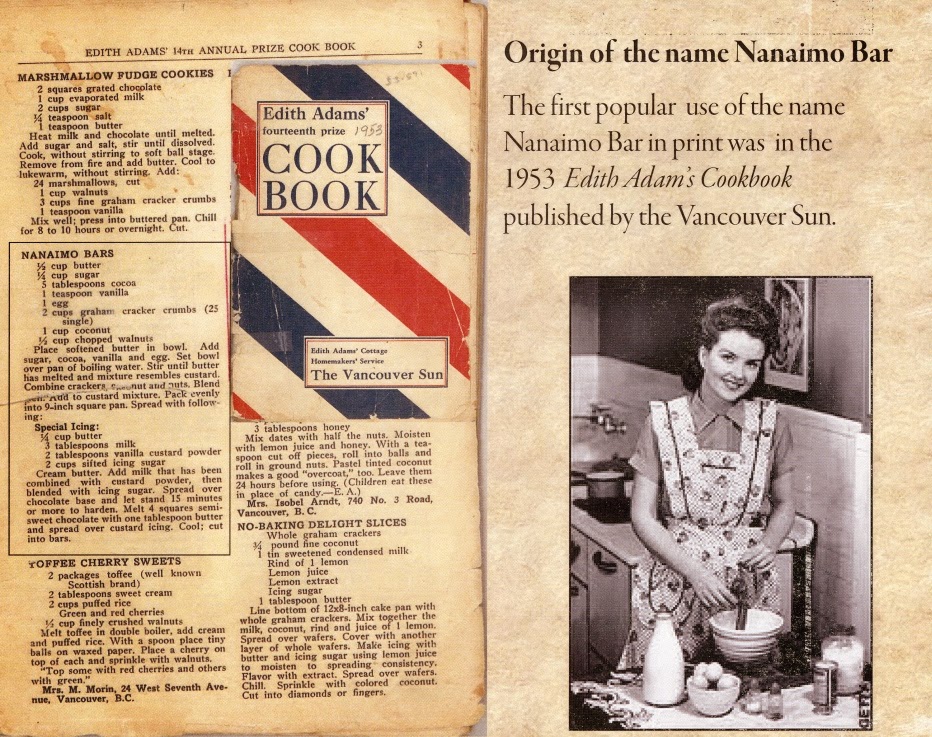 Why this little bar endured over the years is somewhat of a mystery but the local community of Nanaimo never relinquished this bar and perhaps by naming it after their town it survived.
NANAIMO BARS TODAY
Today, eating a Nanaimo bar in the city is on the bucket list of many visitors, and they're certainly not starved for choices. Whilst you can get the traditional varieties in many cafes (the recipe I share below) you can also find Nanaimo inspired cakes, cheesecakes and can even get a Nanaimo bar pedicure at a local bar! It is a little bar with a big identity..famous for being famous.
When it's all said and done though I judge a dessert or cake by how quickly it is eaten and how well it is received by others. And this no bake recipe I have to tell you was eaten and finished within 24 hours of making it. A humble little community cookbook bake is a sure winner in my book!
NO BAKE NANAIMO BARS RECIPE
If you prefer you can watch the video recipe here otherwise scroll below for the recipe and instructions.
FOR THE BARS
125g Unsalted Butter
50g Caster Sugar
30g Unsweetened Cocoa Powder
⅛ tsp salt
1 tsp vanilla extract
1 large egg
180g crushed digestive biscuits
75g finely chopped almonds
75g desiccated coconut (unsweetened)
FILLING
115g unsalted butter soft
2 – 3 tbsps double cream
2 tbsps custard powder
210g sieved icing sugar
TOP LAYER
225g good quality, dark chocolate ( minimum 50%)
30g unsalted butter
KIT NEEDED
Electric Whisk or Cake Mixer
8 or 9 inch square tin
Double Boiler
INSTRUCTIONS
Line your square baking tin with parchment. The smaller tin will yield a slightly thicker bar but both sizes would work here.
Place the butter, sugar, salt cocoa in a large heatproof bowl over a pot of simmering water ( double boiler). Whisk until fully melted and combined.
Now slowly add the egg while whisking vigorously the whole time. Ad in the vanilla and continue whisking over the double boiler until the mixture has thickened.
Remove from the heat and stir in crushed digestive biscuits, coconut and almonds and toss until evenly coated.
Press the mixture into your prepared square oab. Chill this in the fridge whilst you prepare the next layer
For the filling simply beat together the butter, icing sugar, custard powder and 2 tbsps of hte heavy cream in a bowl. Either do this with a hand held mixer with a cake mixer using the paddle attachment. Add the extra tablespoon of cream if needed…you want to beat this buttercream until it is silky smooth.
Spread this custard buttercream over the chilled bottom layer. Chill preferably in the freezer whilst you make the chocolate top[ping. ( Otherwise the warm chocolate could melt the buttercream).
For the top layer melt the chocolate and butter over a double boiler as before or in the microwave for 20 second intervals. Either way you want to melt the chocolate slowly until is is melted and glossy and well combined with the butter.
Spread this chocolate in an even layer over the custard filling. Chill in the fridge until the bars are set.
Cut into squares and serve at room temperature. Store in a tupperware in the fridge.