Moroccan Snake Cake
So I'll be the first to admit that snake cake doesn't have the most appetising ring to it. 🙂
M'hanncha is the Moroccan word for snake and one can only guess that the name for this exotic, sweet pastry comes from the coiled spiral of its shape, rather than the serpent lurking within.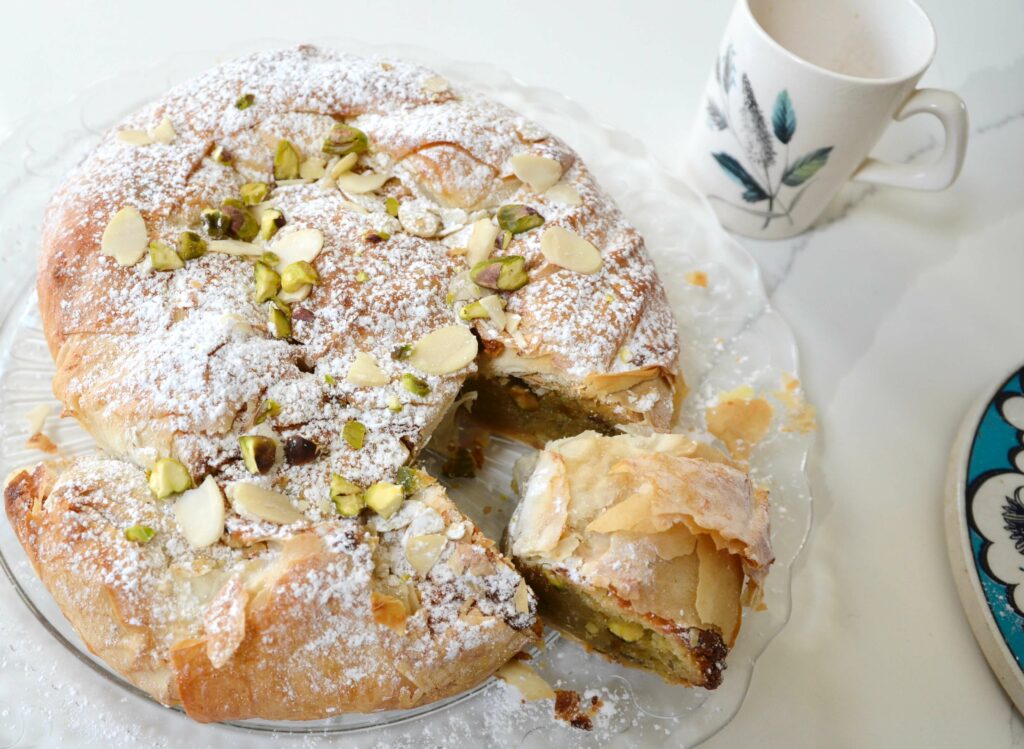 What is M'hanncha?
'M'hanncha' is a traditional Moroccan dessert, made with layers of fine filo pastry and filled with an almond, pistachio and orange blossom paste. This frangipane-like filling is simple enough to prepare and the marriage of the gooey citrus scented interior with the fine crunchy casing is utterly delicious, especially if you are a marzipan freak like yours truly. It reminded me hugely of the sweet nutty confections and pastries that my maternal Turkish grandmother used to make us, and the familiar scent of orange blossom water and pistachios whilst making this M'hanncha reminded me just how interconnected culinary speaking, we all are.
What are its origins?
The origins of the snake cake are thought to lie with the North African Berbers. The Berbers who would roll up thin layers of a fine 'Warqa' pastry with a rich sweetened filling full of the fruits and nuts that grow abundantly in that climate. Warqa pastry leaves likely originated in the kitchens of the Topkapi Palace during the Ottoman Empire and is a marriage of Berber cooking and Arab influences drawn from its Persian heritage. The Persians had learned the art of making thin pastry from the Chinese and Moroccan Warqa is actually made in the same way as Chinese spring roll skins.
Thankfully with commercially available thin leaf pastries we do not need to master these fine arts to create these tasty pastries at home. Whilst it is not the same as modern filo/ phyllo pastry (phyllo meaning 'leaf' in Greek), both traditional Warqa pastry and phyllo pastry is commonplace in North Africa, Albania, Turkey and Eastern Europe to create pastries such as baklava, borek and m'hanncha which are all usually stuffed with sweetened nut pastes.
This desert is served all over Morocco and is traditionally eaten with fresh mint infused tea. Whilst I have seen recipes that swap in ingredients such as figs and chocolate I have shared the purist's version here and have used shop bought filo pastry.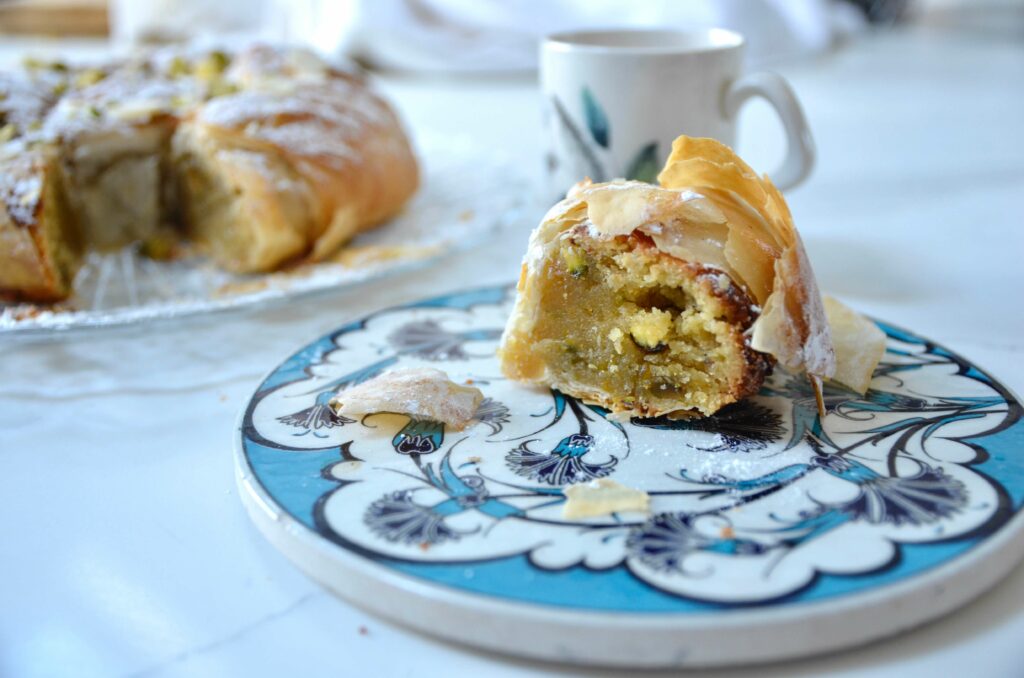 RECIPE
FOR THE FILLING
85g softened butter
225g golden caster sugar
375g ground almonds
60g chopped pistachio nuts
½ tsp ground cinnamon
¼ tsp almond extract
Grated zest 2 oranges
80ml orange blossom water
2 eggs
25g sifted plain flour
FOR THE PASTRY
Pack of Filo Pastry ( you will use 6 large sheets)
100g melted butter
1 egg yolk beaten for glazing
Chopped pistachios/ slivered almonds to serve
Icing sugar
KIT NEEDED
Electric Whisk or Cake Mixer
Knife
Pastry brush
Greaseproof paper
INSTRUCTIONS
Preheat the oven to 160C/ 325F.
Use a cake mixer with a paddle attachment if you have one, otherwise a handheld electric mixer is fine.
Cream the butter and sugar together until light.
Add the ground almonds, chopped pistachios, cinnamon, extract, orange zest and orange blossom water and mix on a medium speed until well combined and smooth.
Then add in the eggs and flour and beat until smooth.
Place a long sheet of baking or parchment paper on your work surface. You will use this to help you roll the pastry. For this next step you will need to work quickly. Make sure your melted butter is to hand and that the filo is kept under a damp cloth to prevent it drying out.
Lay a sheet of pastry in a diamond shape at one end of your paper. Brush with melted butter. Work quickly to add another diamond layer overlapping it by about a third. Brush with butter. Repeat this process until you have 6 diamonds of pastry lined up overlapping each other to create a long sheet of pointy pastry. Trim the bottom edge of with a knife so you have a straight edge.
Carefully spoon the filling about 2 inches away from this bottom edge. Fold in the sides and use the parchment paper to help you roll the pastry into a long log.
Carefully pick up one end of the 'sausage' and roll and coil it up to create your snake shape. Scrunching the pastry gently in your hand and even spraying with a fine mist of water, or brushing on more melted butter should help you coil up the pastry log without it cracking.
Lift carefully and place onto a prepared baking tray. I cut my parchment around the snake and lifted this whole with the coiled pastry on top onto my tray.
Brush with beaten egg and bake in preheated oven for 35-40 minutes until golden.
Prefer to watch the video? Click below