How to stop peeling cupcake cases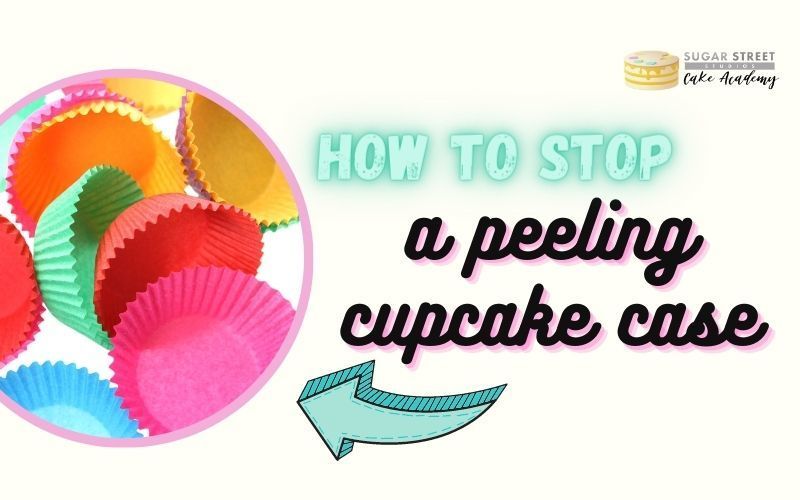 One of the most common questions that I am asked about cake making and cake decorating is "Why do cupcake cases peel?"
As far as I know, no one has ever come up with a scientific explanation for this. There are a few theories like steam, grease, too much moisture, quick condensation etc. We could go into great detail but the most helpful thing to tell you is how you can prevent them from peeling. That's why you're here right?
There is nothing worse than baking a batch of 24 cupcakes which come out of the oven and then 10 minutes later all the cases have peeled away! So, here is our checklist of steps we take to try to prevent this happening to your cupcakes:
tip #1: fill your cupcake cases properly
Make sure you fill your cupcakes with enough mixture. A flat topped cupcake is usually only filled half way up. You will get used to your oven and how far your cakes rise as different ovens will produce different results. Keep an eye on the heights the first few times you bake and if they are a bit low, slightly increase the amount of mixture you put in the cupcake cases. Top Tip – use an ice cream scoop of around 4.7cm diameter to fill your cases.
tip #2: always beat your butter and sugar separately
When making your cupcakes, make sure you beat the butter and sugar on its own before you add any other ingredients. In fact, we usually beat the butter alone and then add the sugar and beat again. This makes the butter very soft and the combined butter and sugar very fluffy. We have found this consistently helps with peeling cupcake cases.
tip #3: make sure your oven is the right temperature
Most domestic ovens are not 100 percent accurate in their temperature recording so make sure you use an oven thermometer to test your oven temperature. This is a small shelf thermometer that sits on the oven shelf and reads the temperature inside the oven. You may be surprised to see that this often varies dramatically from what the dial on the outside of the oven says! You can buy these in most shops for a fiver.
tip #4: don't undercook your cupcakes
Make sure you don't undercook your cupcakes. We cook our vanilla cupcakes for 19 minutes and chocolate cupcakes for 23 minutes. Lemon cupcakes are cooked for 22 minutes. The cooking time therefore depends on the cupcake. If you undercook a cupcake, the case is more likely to peel away.
tip # 5: leave cupcakes in the baking tray for a short period 
When the cupcakes come out of the oven, don't leave them cooling in the tray for too long. This will build up steam around the side of the cupcake cases which can then cause the cupcake case to peel away. Take the cakes out as soon as they are cool enough to handle, take them out of the tin and let them cool on a baking tray.
We say take them out when they are cool enough to handle as if you take them out as soon as they are out of the oven the sudden change in temperature can cause condensation, moisture build up and a peeling case. It's a fine balance but practice makes perfect!
tip #6: avoid tupperware at all costs 
There is no place in a cupcake kitchen for a plastic container! If you store a finished cupcake in an airtight plastic tub, the cupcake case will almost always peel. Instead put your finished cupcakes in a cardboard cake box (the same one you are using to give them away would be fine).
tip #7: don't keep your cupcakes in the fridge
There is no need to keep a cupcake in the fridge. This will cause it to dry out. It is best to store them (once iced) in a cool room or a cupboard in a card box. The best boxes to use are cake or cupcakes boxes which are not 100% air tight. Cupcake boxes with holes are best as they help the case stay in position.
tip #8: freezing cupcakes, make extra!
You can freeze cupcakes pre icing them with buttercream. If you do this, always make a few extra cakes as the defrosting process can sometimes cause a wrapper to come away.
tip #9: can you repair a peeling case?
If a cupcake case only peels slightly, you can fix this by "sticking" it together when you flat ice the cupcake. Be careful with the pressure when you do this as too much pressure on your palette knife will cause the cake case to peel away.
We hope this tutorial has helped you with your peeling cupcake case problems! We know how annoying it is so make sure you follow our tips for a peel free bake. We do also have one more trick up our sleeve, we use a specific cupcake case which gives us great results every time! This is one of our secret suppliers and is exclusively for Academy members. If you'd like to find out what they are, plus get access to more secret suppliers and discounts then just click here.