Black Cake
A Caribbean Christmas Staple
Black Cake is the ubiquitous Caribbean Christmas cake made with dried fruits and soaked in dark island rum for up to a year before baking.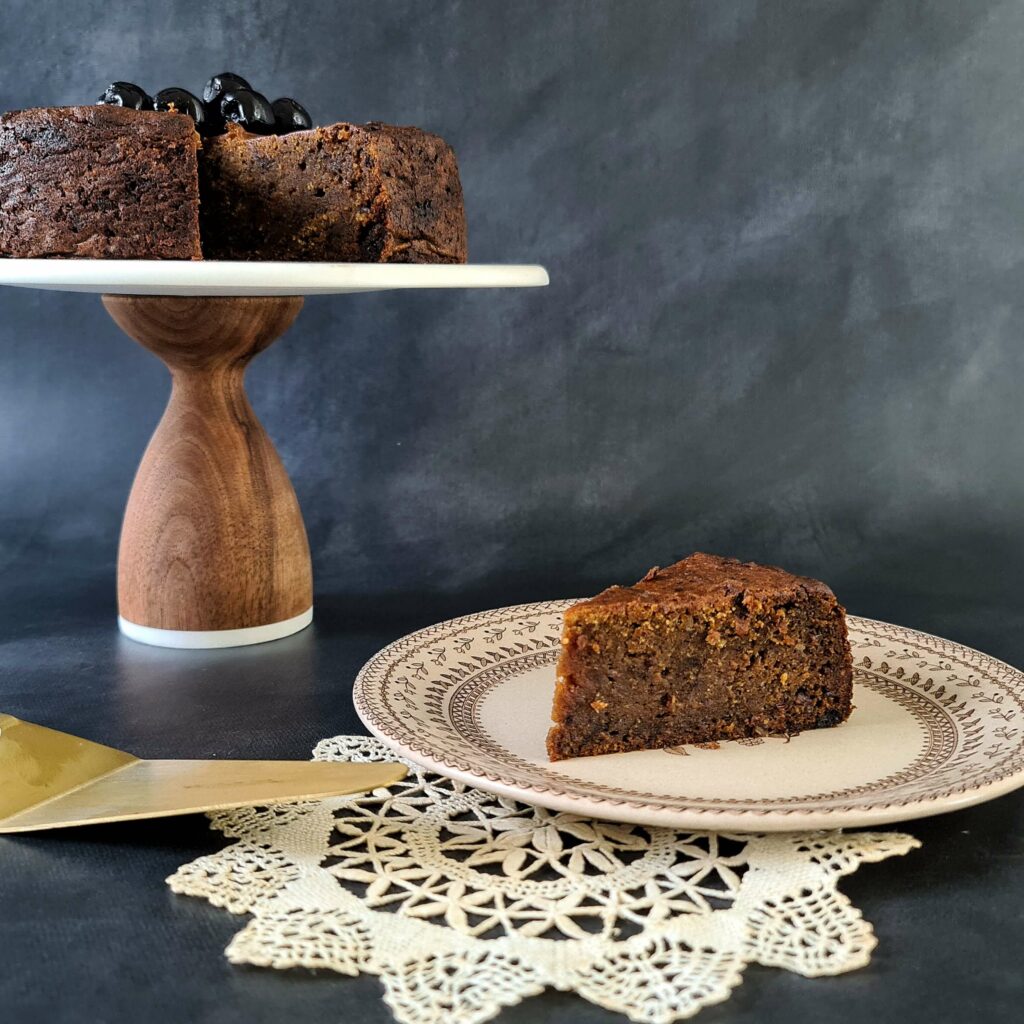 What is Black Cake?
Unlike a traditional fruitcake with a cake crumb and pieces of chewable fruit, black cake is made from pulverised, dried soaked fruit which produces a very smooth, dark and deep desert. With notes of caramel and rum, Black Cake can be ceremonially iced with marzipan and sugar paste but often is left undecorated.
If you are someone that adores planning for a traditional Christmas, this cake will tick a lot of boxes. It's deep, boozy and rich and if prepared properly can be started months and months before Christmas, to really allow for that Christmas build up!
What are it's origins?
Caribbean Rum Cake or " Black Cake" as it is commonly known, is thought to have originated from the British colonialists that began to settle on the islands in the 18th Century, bringing with them their recipes for steamed fruit puddings. Indeed Black Cake is the Caribbean version of our typical plum pudding eaten in England on Christmas day. The key difference being the the choice of alcohol that the fruits are soaked in. British recipes call for brandy – in the tropical islands of the Caribbean the main ingredient used is rum..the significant component and the main identity of this cake.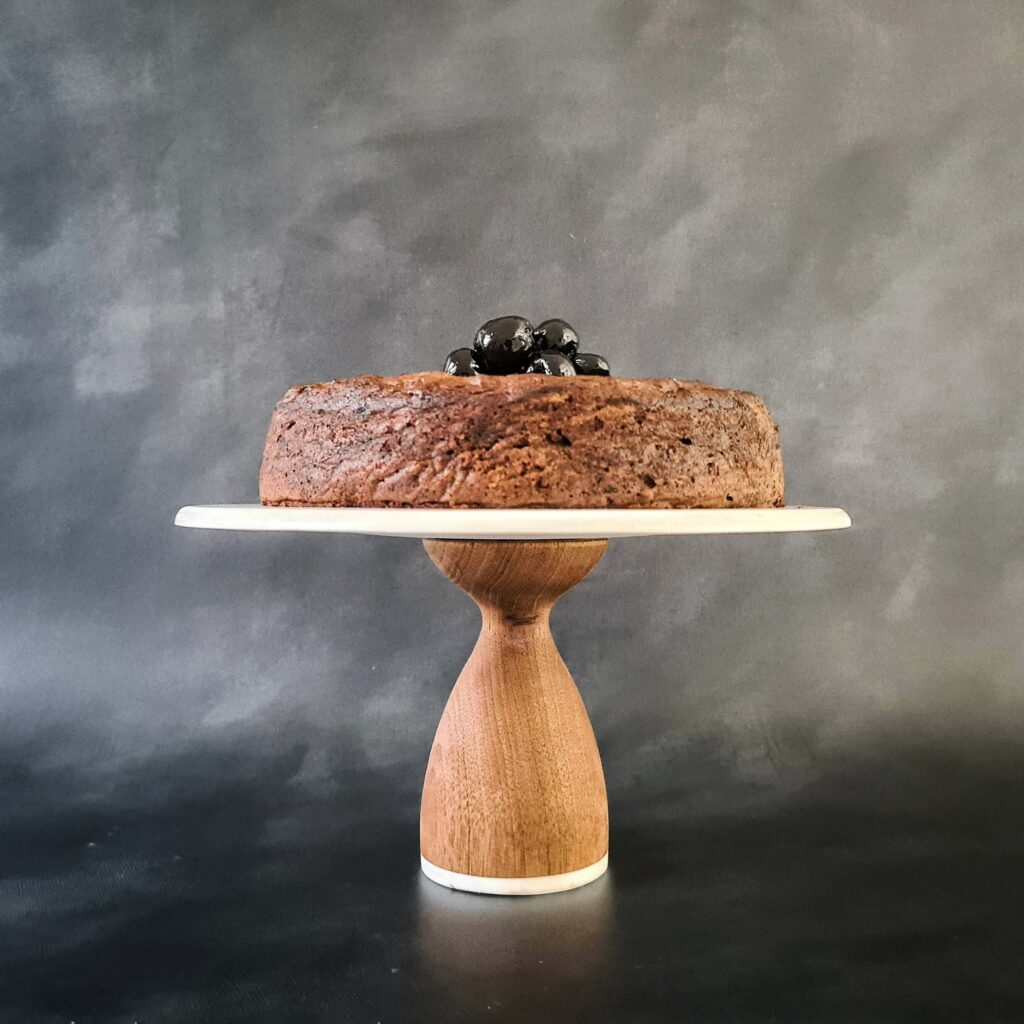 A Labour of Love
This is not a spur of the moment cake. Whilst easy enough to make, a little planning ahead is all part of the ritual. A bit like Christmas itself.
The key to its deep flavour lies in the long maturation of minced dried fruits soaked in island rum – the production of which begins a full year in advance. Currants, raisins, cherries, prunes and candied peel are minced to a thick paste and steeped in rum before being sealed in airtight jars. One week maturation is OK, one month even better and if you play your cards right and store this black gold properly, it will keep for a year, delivering a knockout intoxicating flavour punch.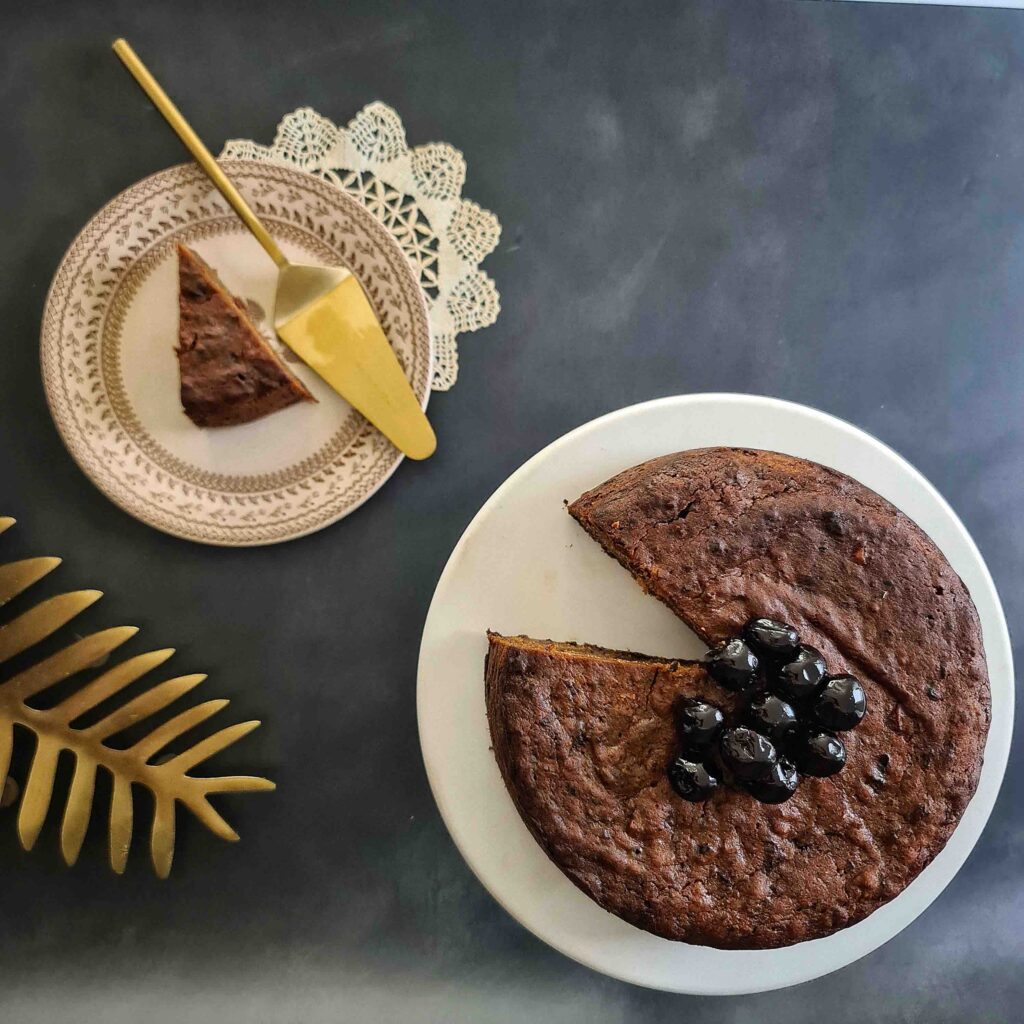 How black is black?
Despite its name, the cake itself is not jet black…merely "pretty dark" by virtue of the ground dried fruits and the addition of burnt sugar that is traditionally added at the end of the mixing process. In the recipe I share below, I have subbed in dark treacle which imparts a lovely deep liquorice note as well as that glorious colour. Burnt sugar can be tricky to master, not to mention leaving a lot of scarred pots in its wake,  so this works for me…but please feel free to swap it in for burnt or browned sugar if you fancy the challenge of making it, or look for "browning" if you are lucky enough to have a local Caribbean food store near you.
A cherished Christmas gift
As the labour, time and expense are not inconsiderable when creating these festive treats, it is no surprise that the gift of a Black Cake has always been viewed culturally as a token of deep affection and respect amongst family and friends. Speak to anyone with Caribbean heritage and I'm sure you will hear stories of famous Black Cakes made to special personal recipes, travelling the world as gifts. 
The Black Cake absolutely embodies the spirit of Christmas to me. It is sweet,  heady and comforting  to eat but more than that..it is a gift of patience, gratitude, friendship and celebration that is at the heart of what Christmas represents. 
RECIPE
Makes one 8 inch cake
Black Fruit Paste ( this makes exact quantity for recipe)
85g each of raisins, sultanas, currants, pitted prunes & candied orange peel
40g glace cherries
40g candied orange peel
250m dark Caribbean rum
Cake
150g soft unsalted butter
150g soft dark brown sugar
2 tbsps dark treacle ( or Caribbean " browning")
1 jar of black fruit paste (above)
4 large eggs
150g plain flour
1 tsp mixed spice ( cinnamon, cloves, nutmeg, cardamom)
¼ tsp salt
100ml warmed ruby port or cherry brandy
Kit Needed
Cake Mixer with Paddle attachment
8 inch spring release baking pan
Baking paper
Pastry Brush
Cocktail Stick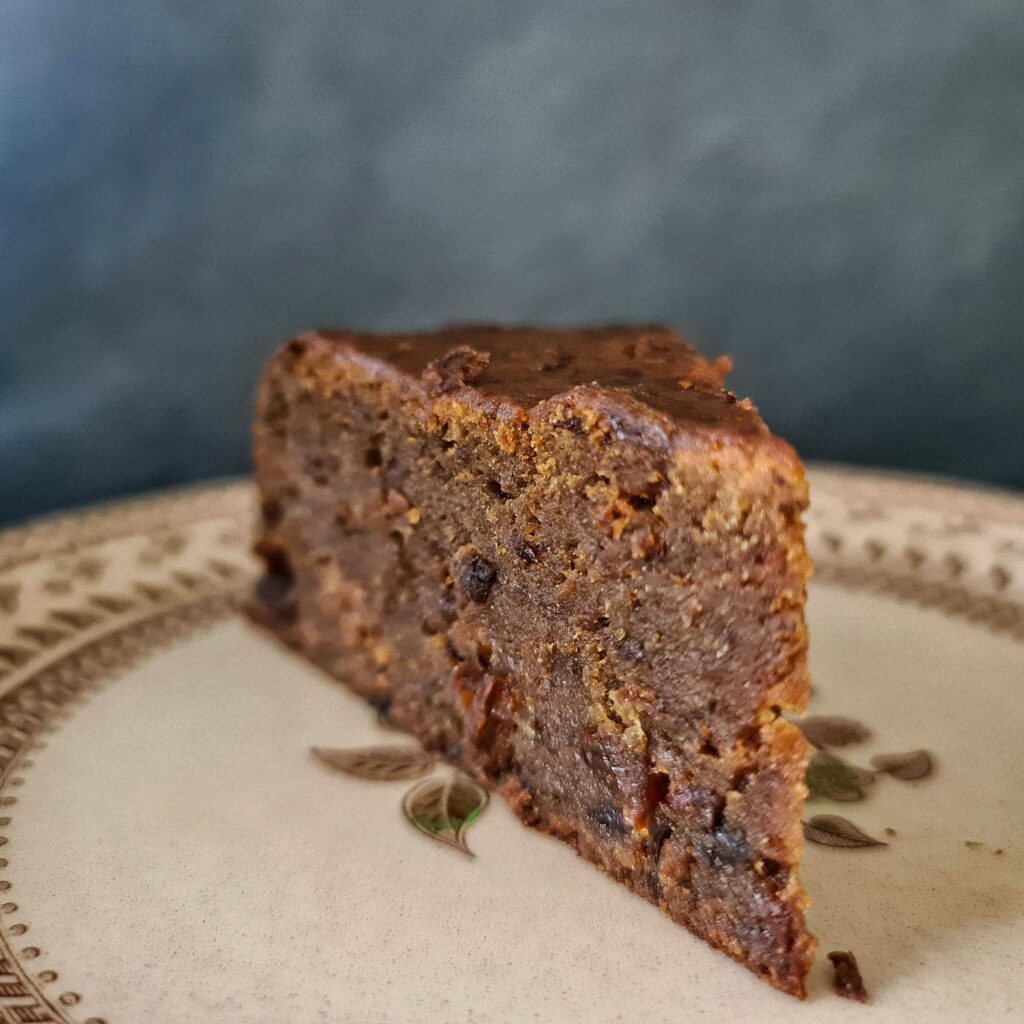 Method
Ahead of time ( up to a year in advance and at least one week before)  prepare the black fruit paste.
Begin by measuring out all of your fruit and then use a sturdy food processor or grinder to pulse the fruit until a thick paste forms.
Mix the minced fruit with the dark rum and spoon into a 500ml sterilised jar. Keep in a cool place for up to a year. If you don't have so much time, leave the mix for a few days before you use it in your recipe.
When you're ready to bake the cake, preheat the oven to 160 C fan/ 325F. Grease and line the tin with a double layer of greaseproof paper.
Beat the softened butter with the brown sugar until light and fluffy. Then add in the treacle and continue to cream. Slowly add the eggs one by one, scrape down the bowl until well combined with the butter. Add the fruit paste and mix well.
Sift together all the dry ingredients and fold this into the cake batter. Pour into the prepared tin.
Bake in the oven for an hour and then at this point turn the oven down to 140c/ 275F and bake for another hour. You may need to cover the cake with a layer of foil to prevent the cake from burning.
Once Baked
After 2 hours remove the cake from the oven and check if the cake is cooked with a skewer. Place the cooked cake onto a rack and then prick the cake all over with a skewer while the cake is still warm. Brush on the warmed port and allow it to sink into the cake.
Leave to cool in the tin. Wrap well and store in a cool place. The cake is good for up to 2 months before eating.